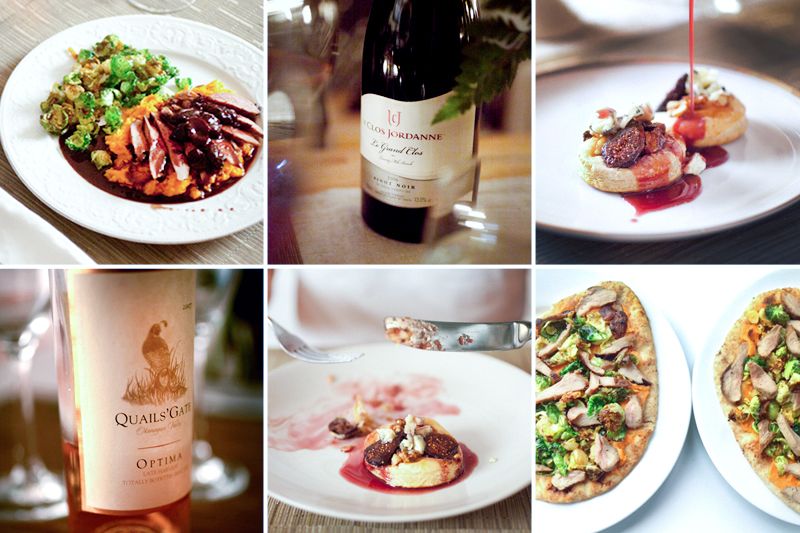 I really like my guy, but I still hate Valentine's Day. I don't like to have to be 'romantic' when told. Besides, I'd make him a fabulous dinner any night of the week. And is it me or is the word 'romantic' a little icky? Nevertheless, it is our first Valentine's Day together, and it doesn't seem like the right time to make a stand. So the conventional approach wins.
Dinner for Ian on Valentine's Day:
I know that's only four items, but there were sub-recipes! And because I fell asleep right after dinner the night before, I had to get up and prep from midnight to 3am. Doh!! But when you realize you want to spend many Valentine's Days with someone, you want that first one to be perfect. So peeling brussels sprouts, making candied walnuts and mashing sweet potatoes until 3am seemed a small price to pay. It was so worth it. I didn't think I liked duck, but oh, it was good! He was in charge of the wine. The pinot carried the flavors of the duck and cherries seamlessly from one bite to the next. And the late harvest dessert wine was like sweet, silky honey with the figs and stilton. It was a perfect night; everything was sparkly, new, hopeful and enthralling, for no reason in particular. Not something I experience very often. As a bonus, the leftover duck breast, brussels sprouts and sweet potato made a hella tasty flatbread a few days later. Valentine's Day 2013 FTW.